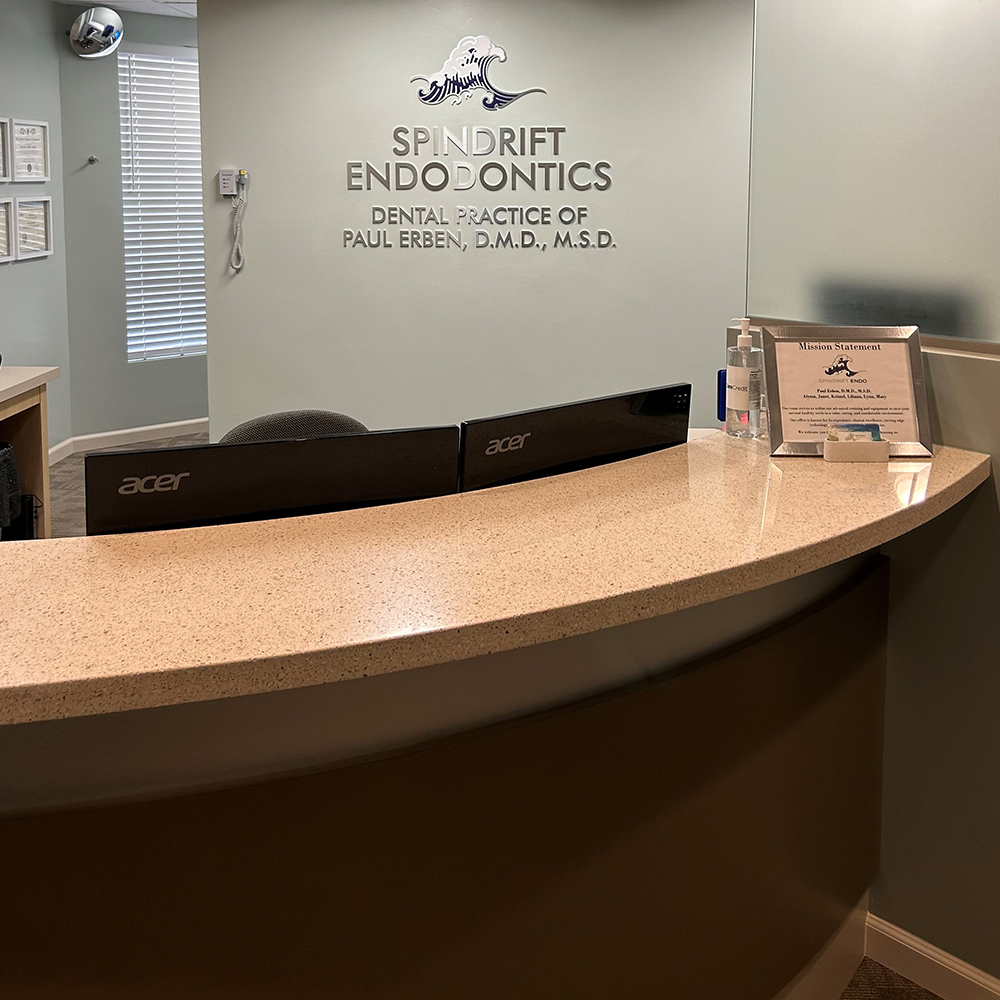 When you schedule your appointment, we will email you a welcome letter from info@spindriftendo.com that will provide you a secure password to complete your online registration.
This will save you time during your appointment check-in.
Please let us know at this time if you have any dental insurance that you would like to use so we can check your benefits ahead of time.
If you have any questions please do not hesitate to reach out to us at 805-349-2222
Your initial appointment will consist of a thorough examination, followed by a complete consultation explaining your diagnosis and treatment options.
Please do not take any pain medication six hours before your consultation appointment.

After the consultation, our team will schedule your treatment visit. In some circumstance's treatment can be provided the same day as the consultation.

Treatment is usually completed in a little over an hour. In some cases, however, teeth that are very complicated to treat may require an additional visit.
Prior to your consultation please provide the following information:
A list of medications you are presently taking

The referral slips and any x-rays from your dentist

Any dental insurance card and information
IMPORTANT: All patients under the age of 18 must be accompanied by a parent or guardian at each visit.
If you need urgent or emergency care our team's goal is for you to be treated as soon as possible. It is not necessary to be referred by another dentist or office for any endodontic problem. Please call our office for more information and our team will discuss your appointment options. 
Endodontists are experts in pain management. Specialized techniques ensure patients are thoroughly comfortable during treatment. When treatment is needed, the endodontist will apply topical numbing gel and a small injection of anesthesia to numb the treating area. The numbness typically subsides after 2-3 hours. For more information on options for anxiety or if you would like oral sedation please contact our office.
After treatment your tooth may feel sensitive for two to seven days. Your body needs time to repair the damage that the original irritant caused. This is normally relieved with over-the-counter medications with combination of an anti-flammatory such as Advil along with acetaminophen such as Tylenol. We will provide you with thorough instructions for managing any discomfort. However, if you experience more than mild discomfort or pressure, or facial swelling that lasts more than a few days, please do not hesitate to contact our office.
Sometimes referred to as "comfortable" or "relaxation" dentistry, the terms describe the feelings most patients experience during their oral sedation appointments. The purpose of oral sedation is to allow a dentist to work more effectively by helping a patient become as comfortable as possible with the patient remembering little to nothing of their time in the dental chair by the next day. This is accomplished through the use of sedative medications administered orally and sublingually. A consultation appointment is needed so the patient and dentist can discuss all the sedation procedures.
Please contact us if you are interested in oral sedation so we can discuss this option with you further. 
While we are not participating providers for any insurance networks, we are happy to bill all PPO dental plans. Our office will do everything possible to give you an estimate, help you understand your benefits and maximize your reimbursement. If you have any questions or would like an estimate prior to your visit, please contact our office. 
Payment is due at the time of service.  If you have dental insurance, your estimated co-payment is due at the time of services.  For your convenience, we offer payment options in addition to cash and checks including credit card payments.  We accept the following credit cards: Visa, Mastercard, Discover, American Express and bank debit cards.
Payment Plans As a courtesy to our patients, we offer zero interest payment plans up to 24 months through CareCredit & Lending Club.